Wonderful food, fields of sunflowers, vineyards
This property is maintained to a very high standard. In particular, the swimming pool is kept spotlessly clean. Claudia and her family are the most gracious hosts you could hope to meet. Wonderful food, fields of sunflowers, vineyards, sounds of classical piano, who could ask for more.
Jim G.
L'Olivier
September 2025
Great place for a peaceful vacation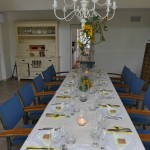 We spent a week with friends and it was great! The place is beautiful, there a lot of things to do around. But Le Trabet is also the perfect spot to just relax and enjoy a peaceful vacation. The owners are the best and really helpful organizing things to do. We also had one night where they organized dinner for us and it was super special and very good food! Thanks a lot for the fantastic week we spent at Le Trabet!
Kaline
L'Olivier
August 2015
Wonderful place to stay and bike
Le Trabet is wonderful place to stay. The house, courtyard and gardens are very attractive. Our kids really enjoyed exploring the grounds. The pool, as the photo accurately depicts, is fantastic.
Laurier is lovely. It's tastefully decorated to a high standard and very well equipped.
We really appreciated the attention to detail and quality of both the gite and the wider property.
If you like cycling then it's an excellent base for riding in La Montagne Noire.
Jon P.
Le Laurier
August 2015
Cool barbecue at the rose garden!
We recently stayed at this very nice property and had a fantastic time. There is a very cool-looking barbecue area set in the rose garden and with a view of the woods, the pool is big and spotlessly clean, the rooms are spacious and the kitchen and bathrooms are modern and high standard. What more to ask for … We had a great time and can't wait to get back.
Anonymous
Le Laurier
May 2015
Amazing holidays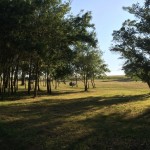 We spent two weeks at Domaine Le Trabet with my wife and our three children as well as my in-laws. The time spent in the gîte L'Olivier was fantastic: the house is very spacious, my parents-in-law had their bedroom and bathroom on the ground floor and we were upstairs in three bedrooms. The swimming pool was renovated earlier this year and is fabulous, it is quite large and very clean. The entire park was being looked after nicely and the roses were beginning to bloom. There is an assortment of bicycles and helmets one can use free of charge. The owner, Claudia, supplied us with all kinds of useful information about the region and the places to discover, thanks again! All in all, this place is ideal for large family gatherings during the holidays – we're already dreaming of going back.
Gaston Ferrera
L'Olivier
May, June 2015
Beautiful, well equipped and spacious gite
This is the second year running that my family has shared this gite with my brother's family, which is recommendation enough. The property was spacious and well appointed enough to accommodate 8 of us with ease. Everything in the house is spotless and tastefully refurbished, while the grounds, pool, courtyard and sunflower filled surroundings are all similarly beautiful. Claudia, the owner, could not be more accommodating. We recommend Bareil the butcher (less than 10 mins drive away), Montolieu for wine (and cafes and books!), Carcassone for pastries and visiting local markets for veg to make the most of self catering in this wonderful place! There is also an amazing restaurant called Ambrosia again, less than 10 mins drive away and of course plenty of places to fill up on Cassoulet…..
Catriona R.
L'Olivier
September 2015
One visit is not enough!
We spent a week at Le Trabet in late July of this year. It was superb. Claudia was a warm and gracious hostess. The gites were large and comfortable. Lots of space to spread out. The kitchen and bathrooms were spacious and modern. The grounds and surrounding countryside are peaceful and quintessential French countryside. You can ramble out the back for forty kilometres. The pool was well used by us and our two children. We met some really interesting travellers, and enjoyed every minute at Le Trabet. I hope to go back some time in the not too distant future.
Sheila Mackenzie
L'Olivier
July 2014
Wonderful time in the Languedoc-Roussillon
We had a wonderful time at Le Trabet.  If you are considering a trip to the beautiful area around Carcassonne in Languedoc-Roussillon, this is the place for you.  The gites are in a beautiful old country home down a little country lane.   The house is perfectly situated for day trips in this interesting area.   As you leave the house for your adventures, the snow-covered Pyrenees are clearly visible directly in front of you.
The fireplace in our bedroom had the date 1791 carved in it, but all of the units have been tastefully updated with modern conveniences.  Each unit has its own little terrace area opening to the beautiful grounds.  The owner, Claudia, is from Germany, but after many years living in the U.S. speaks perfect English, as well as French and Spanish.  We had interesting conversations with her over wine and cheese at the ends of several of our days exploring the area.  She brought us fresh bread on the days she was going to the bakery in a nearby village.
Carcassonne is the most famous site in the area, and it deserves its reputation.  It is a beautifully restored medieval city with all of its walls and turrets in place.  The gite was also a perfect base for day trips into the surrounding area which we found equally interesting as Carcassonne itself.  There are many scenic places connected with the Cathars, an early Christian group that was wiped out by the Catholic church in the 1200's.  The countryside is varied but consistently beautiful.  This is the largest wine-producing area in France.   We often took local wine, cheese, and bread for picnics along the way, but there are also three Michelin-starred restaurants within 15 minutes of the gite, so you can have it all- and without the crowds of tourists in more heavily visited areas like Provence.
Tyler and Margot Baker - Carmel Valley, California
Le Palmier
April 2015
A wonderful two weeks
We had a wonderful two weeks at Le Trabet, and really enjoyed everything the region had to offer. Le Trabet and the pool were great, with beautiful clean and well equipped gites. We'd love to come back sometime!
Magnificent place to stay
A charming property in the middle of a beautiful and quiet countryside. Everything in Le Trabet is impressively spacious, comfortable and immaculate: the bedrooms and bathrooms, the very well equipped kitchen and the large living room. Everything is as good as it looks in the photographs. There's also a magnificent swimming pool, a huge park and even a real barbecue place! Whether by walking, hiking, bike (provided) or vehicle, exploring the area is just exciting and there are lots of wonderful spots to discover not very far away, starting with Carcassonne, the fortified city on the UNESCO list of World Heritage Sites.
I would most certainly recommend this property to my friends.
P. d'Epenoux
L'Olivier
June 2015
A Fantastic quiet corner in lovely countryside
Le Trabet was exactly what we were looking for: a nice quiet setting but close enough to local sites to go exploring. Carcassonne is only a short drive away but there is so much more to see! There are lots of castles and picturesque hilltop villages to see. The foothills of the Pyrenees are not far away.
The owners were very friendly, always helpful and ready to suggest nice places to visit. The gites (Le Palmier) is spacious, comfortable and had everything we needed. There is heaps of space in the surrounding park lands, the pool was perfect for cooling down after hot day.
It was an all-round perfect holiday and we'd love to come back some time.
Highly recommended!
Anonymous
Le Palmier
June 2015
A fabulous and peaceful getaway!
I spent nearly a week at Le Trabet and could not recommend a place any more! The property is absolutely gorgeous and furnished with taste, the owners are kind and extremely invested in the property and making sure guests have the best stay possible, and the nearby towns are accessible and quaint. There is enough to do both on and outside the property (not to mention a great pool!). Stay here if you want to truly experience countryside France!
Jamie L.
Le Trabet
May 2015