Carcassonne Aude Department. The city of Carcassonne is divided into two sections, Ville Basse and the medieval walled community known as the Cité. The business of Carcassonne is concentrated in Ville Basse, which has clothing factories and is an important center of trade in wine, grain, and fruit produced in the surrounding region. Ville Basse also contains the Cathedral of Saint Michael and the Church of Saint Vincent (both mainly 13th century).
The Cité, an UNESCO world heritage site, contains some of the finest remains of medieval fortifications in Europe and is a popular tourist attraction. Set on top of a hill on the left bank of the Aude River, the Cité includes ancient ramparts and towers, some parts dating from the 5th century, during the time of the Visigoths, and others from the 11th to the 13th century. In addition, a 12th-century castle and the Romanesque and Gothic Church of Saint Nazaire (11th-14th century) are located in the Cité. Cities near Carcassonne are Toulouse, Narbonne, Bezier, Montpellier, Perpignan, Limoux and Foix.
Carcassonne Cité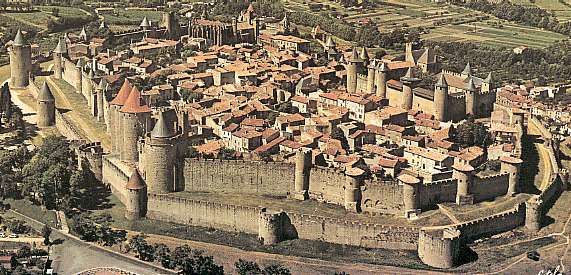 "Festival de Carcassonne"
The renowned "Festival de Carcassone" takes place every year in July. During this month Carcassone offers you a wide range of specially organized theater, ballet and opera productions and classical as well as blues- and pop concerts. Halfway the festival on July the 14th; Bastille Day; you can enjoy what probably is the most beautiful display of fireworks in Europe.
Cité with the Montagne Noir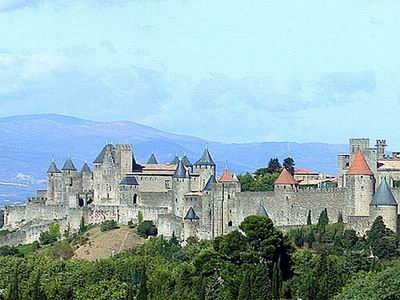 Fireworks at Carcassonne